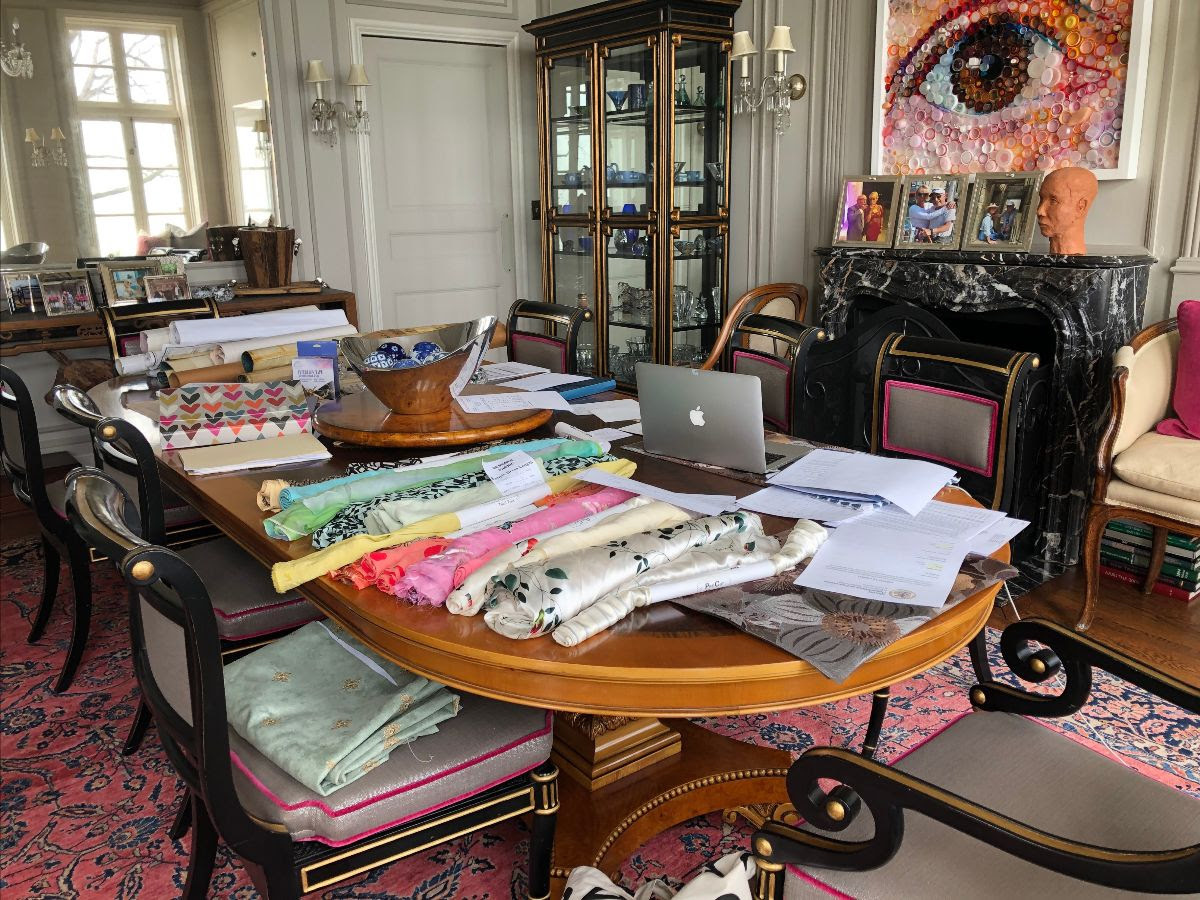 A word from our owner
Dear Friends of skändal and Beyond,

Here from my home desk in Wilmette, Illinois (paperwork and fabric sprawled out all over my dining room table and bags of stuff on the floor) I say a warm hello and a sincere wish for your health and happiness above all else.
In this most shocking and devastating time for our planet, I am sending some cheerful good will your way, and to assure you that we are doing everything possible at skändal to stay healthy yet viable as a small business.  
Last night we held a staff meeting ("The skändal Sisters" as we fondly call ourselves) on ZOOM (a virtual on-line app where we can all see each other) and all were encouraged to have a favorite beverage in hand.  We shared stories of life at home, home-schooling, favorite recipes and checked on each other's mental well-being! I also listened to their suggestions on how to keep skändal thriving.

Here what we know:
-  We temporarily closed our doors as of March 17th.

But as of today our webshop is back online and waiting for you! ONLY ONE OF US AT A TIME WILL GO INTO THE SHOP EACH DAY.

-  We have a staff of 7 employees, none of whom have been laid off,  even if they are at sheltering at home.  If any of our team needs additional assistance, I have asked them to contact me individually. 
- We are in the process of applying for all of the emergency loans available to small businesses both through the SBA Emergency Relief Fund and through the government's new CARE loans (payroll forgiveness) through the SBA.
-  We have approached our landlord for rent forgiveness, our accounting firm for fee forgiveness, and contacted our business credit card for 0% interest rates.
-  We called our designers, vendors and suppliers to hold back orders until we re-open, and asked some of them for discounts on current outstanding invoices to them. THE SCANDINAVIANS AND THE NEW YORKERS HAVE BEEN OUTSTANDING TO WORK WITH!
-  We are staying in touch with our local Chamber of Commerce, bankers, accountants and our Governor Pritzker's 3:00pm daily televised update for current communication. All of whom are doing an outstanding job from my point of view.
Hopefully this is what all small businesses are doing (or should be doing) right now to stay vibrant...and back open when the time is right.

If there is anything we can do for you, please call us on our cell phones Katie Cory 847-727-4469 or
skändal Manager, Susan Dwyer at 847-922-3534

Hugs from the team that loves you,

Katie Cory and The skändal Sisters 

 

***skändal has a way for

YOU to express your thanks

to the people who are

on the front lines***
This cozy poncho is it!

Let's all give back to our medical professionals anywhere in the USA*

All of us know someone who is a nurse, doctor, EMT, police, staff in a health care facility, dentist doing emergency work,
or even medical office staff checking in patients. 
As a loving and caring gesture for our outstanding medical professionals who are on the line and in harms way right now we are suggesting this chance to do something great RIGHT NOW! 

Purchase this beautiful grey, cozy fleece poncho
by Henriette Stephensen, Denmark
(IT'S COMPLETELY MACHINE WASHABLE!)

Reg. $135.00
Now a special gift from you
 only $50
includes a gift enclosure with your name

skändal will take care of the rest and send this out to the professional of your choice

She may not be able to wear this to work, but after hours when she is curled up needing some TLC ( especially if she is quarantined) this soft poncho will keep her cozy and secure knowing that you did this for her.

Simply place the grey one (or more)  in your shopping cart and we will do the rest!

We will call you to confirm her address before shipping
please make sure to include your phone number on the order
 
*free shipping to anywhere in the continental US.

NOW It's time for skändal to reward you...
 

Starting today all purchases 

25% discount*
 
JUST ENTER CODE:  STYLEUP25

*(EXCLUSION on Ilse Jacobsen raincoats and rubber boots
and the Fleece Ponchos shown above are already discounted)

PLUS
Receive a $20 coupon for every $100 that you spend
Redeemable anytime this fall, beginning on August 1, 2020 - October 31,2020

 
Washable and comfortable coordinates for home life!
The new full length asymentrical coat from our newest designer!
In a beautiful navy blue
Social Distance Outdoor Activities.....
whatever your personal choices are for staying safe and healthy, we're only recommending that you look good in rain gear from Ilse Jacobsen, Denmark.
All Ilse Jacobesn TULIP shoes are washable!
Skändal carries 19 colors and styles
Now 25% off and free shipping!
We love shoes!
Both styles are TULIP shoes...now 25% off
plus free shipping!

 
Copyright © 2020 skandal, ltd., All rights reserved.
"You are receiving this email because you opted in at our website or in our store".

Due to This nasty covid-19 virus
skändal retail boutique is temporarily closed

PLEASE SHOP ON OUR WEBSITE 
SHOPSKANDAL.COM
ENTER CODE STYLEUP25 FOR AN EXTRA 25% DISCOUNT


Our mailing address is:


Want to change how you receive these emails?
You can update your preferences or unsubscribe from this list.